Dopey Monkey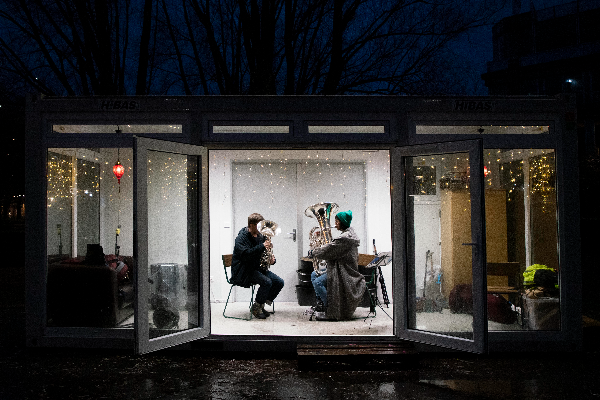 The Tuba and Euphonium make a natural and sonically-powerful combination on their own, and this was proven in spectacular fashion by the night time performance of Scottish duo Dopey Monkey…Utilizing a mix of arrangements and original compositions, beat boxing and wildly adventurous playing, they brought the house down.
On the tuba Danielle produced some amazing sounds while maintaining her bass accompaniment to Martin's more lyrical line. Most impressive of their own compositions were Plaistow Café Groove and Mulled. The suite of three movements, written for them by David Swan, enabled the players to show the full extent of their musicianship and mastery of their instruments.
Duo - Instrumental
Instrumentation
Danielle Price - Tuba
Martin Lee Thomson - Euphonium
Repertoire
Dopey Monkey perform a variety of repertoire including arrangements of classical and folk songs as well as creating new compositions influenced by indie, folk, jazz and improvisation. To hear examples of their work, please visit - www.dopeymonkey.bandcamp.com
Biography
Dopey Monkey began in 2015 with Danielle Price and Martin Lee Thomson exploring all things tuba and euphonium in an informal concert for friends. Known for their varied creative output, they draw upon their experiences in jazz, folk, classical and experimental music to create new projects and musical works. They are passionate about showcasing their instruments in different contexts as well as using them as a medium to investigate cross arts projects. They really enjoy collaborative projects where they can explore and share stories alongside other artists and communities.
As individual arts practitioners, Danielle and Martin have established careers involving performance, composition, artistic residencies, teaching/education and arts management.
Together as a duo they have been invited guest artists at Sergio Carolino's Gravissimo Festival 2018 as well as the prestigious International Tuba and Euphonium Conference in Iowa, 2019, virtual ITEC 2021 and YABAI FEST hosted by Japan's FU-CHING-GIDO in 2021.
They were Dandelion Scotland Musicians in Residence for Findhorn Bay Arts 2022, are Chamber Music Scotland Ensemble in Residence 2022 - 2024 and 2023 chamber music participants of the Britten Pears Young Artist Programme alongside percussionist Adrian Ortman. Dopey Monkey are proudly Denis Wick Product Artists.
Contact