Ian Watt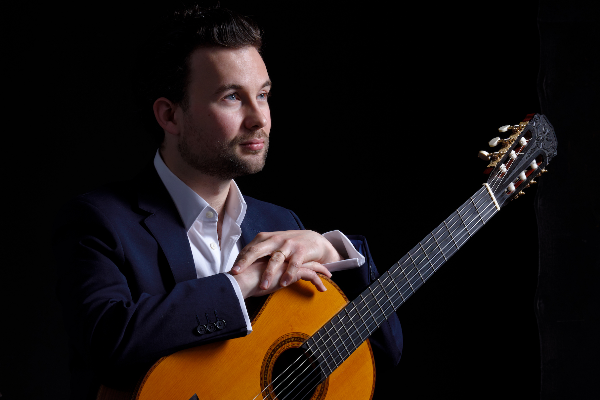 ...a dazzlingly virtuosic performance...
Watt's exceptional range of timbre is especially apparent in John McLeod's inventive Fantasy on Themes from Britten's Gloriana, while the opening of (Britten's) Nocturnal is sublime...
Solo - Guitar
Instrumentation
Ian Watt - classical guitar
Repertoire
Ian Watt's wide repertoire encompasses music from Europe and America, spanning half a millennium. Programmes include a wide range of classical repertoire in each concert with some music written before 1750 and some works from Spain. Both substantial works, such as sonatas, and shorter pieces are programmed together. Composers whom Watt particularly enjoys presenting include Luis Milan, Francesco da Milano, Robert de Visée, Bach, Paganini, Sor, Aguado, Chopin, Albéniz, Granados, Tarrega, Falla, Turina, Rodrigo, José Marín, Villa-Lobos, Ponce and Barrios.
Biography
Described by Classical Guitar Magazine as 'a guitarist of outstanding skill and originality', Scottish guitarist Ian Watt has appeared throughout the world, giving solo recitals in the USA, China, South Korea, Brazil, Spain, Italy, Germany, Czech Republic, Hungary, Ukraine and Denmark. He has performed concertos with the BBC Scottish Symphony Orchestra, Los Angeles Chamber Orchestra, City of London Sinfonia and Scottish Philharmonic Orchestra and his playing has been broadcast on BBC Radio 2, BBC Radio 3, BBC Radio Scotland, Classic FM, NDR Radio (Germany) and WSMC Radio (USA). Additionally, he has made three solo recordings for Nimbus Alliance and his playing has been described by the press as 'sublime' (BBC Music Magazine), 'astoundingly atmospheric' (The Herald) and 'dazzlingly virtuosic' (The Herald).
Noted for his 'exceptional range of timbre' (BBC Music Magazine), Watt's international prizes include 1st prize at the Heinsberg International Guitar Competition (2011), Germany, 1st prize at the Westphalian Guitar Spring Competition (2010), Germany, 2nd prize at the Parkening International Guitar Competition (2009), USA (often described as the world's most prestigious) and 2nd prize at the Vienna 'Homage to Karl Scheit' International Competition, 2010. In addition to performing, he is a committed teacher who has given masterclasses throughout the world and is at present a lecturer at the Royal Conservatoire of Scotland.
Contact