Juliette Lemoine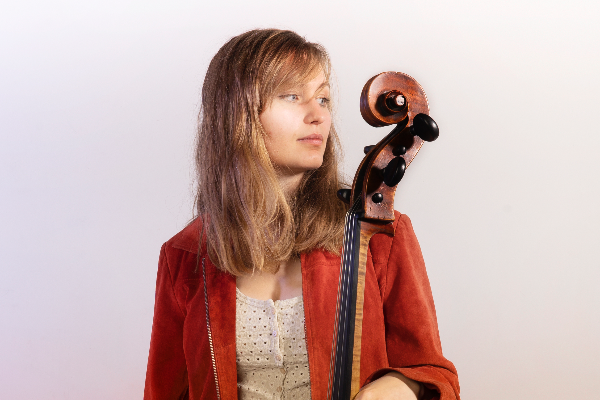 'One of Scotland's leading lights of trad cello'
'A seamless fusion of Scottish traditional music and jazz, with the cello — an unusual star in both these traditions — to the fore.'
Traditional Music
Instrumentation
Repertoire
Original compositions and/or contemporary Scottish traditional music. Ensemble can range from full band to solo cello, depending on preference.
Key influences include: Martin Hayes, Abel Selaocoe, Jenna Moynihan, The Gloaming, Chris Thile and Brad Mehldau.
Biography
Juliette Lemoine is exploring and redefining the cello's role within Scottish Traditional Music. She recently burst onto the Scottish music scene with her debut album 'Soaring', supported by the Beatrice Huntington Award for cellists, launching the album with a sold-out headline performance at Celtic Connections 2023 followed by an extensive launch tour including performances at Glasgow City Halls, The Tolbooth, Marryat Hall, Nairn Community and Arts Centre and Edinburgh Tradfest.
Her emotive compositions weave through Scottish Traditional, Western Classical, and Jazz genres to create a highly personal new voice. Leading an all-star band of some of Scotland's most exciting young musicians in the unique line-up of cello, fiddle (Charlie Stewart), piano (Fergus McCreadie), and tenor saxophone (Matt Carmichael), the album is a euphoric celebration of the theme of freedom.
Juliette is fascinated by the cello's potential to take on a lead melodic role in a traditional music context, in the way a fiddle typically would, and finding ways to retain the same fluidity, bowing style, ornaments and authenticity. She has performed at numerous folk/jazz festivals, including Blas Festival, HebCelt, Aberdeen Jazz Festival, Edinburgh International Festival, and Celtic Connections.
Juliette holds a 1st Class (Hons) degree in Traditional Music from the Royal Conservatoire of Scotland. She is passionate about continuing to push the cello's boundaries within traditional music and showcasing the instrument's versatility. She performs regularly in a duo with guitarist Chris Amer, in addition to with her full band.
*Fee is dependant on line-up and length of program. E.g. Full band fee will differ from duo fee. (Full band fee quoted below)
Contact