Will Duerden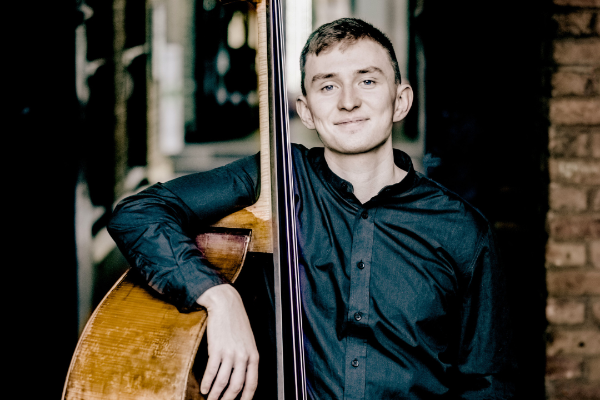 Will (a former member of HSO, a BBC Young Musician finalist, and already a world-class instrumentalist) transfixed us with his virtuosity and musicality, and the orchestra accompanied him rhythmically and skilfully.
Solo - String
Instrumentation
Will Duerden - Double Bass
TBC - Piano
Repertoire
Postlude - Sam Suggs (3.5)
Trois Pieces - Nadia Boulanger (8.5)
Sonata for Contrabass and Piano Op.24 - Lowell Liebermann (25)
Prelude and Scherzo - Reinhold Glière (9)
Viola Concerto in C minor: Adagio - J C Bach (7)
Nacht und Träume - Franz Schubert (3.5)
Nine Variants - Frank Porto (20)
Sonata in E minor - Vilmos Montag (22)
Motivy - Emil Tabakov (5)
Iberique Peninsular - Francois Rabbath (5)
Capriccio di Bravura - Giovanni Bottesini (10)
Reve d'Enfant - Eugene Ysaye (3.5)
Dreams of Flight - Sam Cave (11)
Concerto for Double Bass - Eduard Tubin - (20)
Biography
Double bassist Will Duerden is a highly sought-after artist, in demand as a soloist, chamber musician and orchestral leader with a growing international career spanning four continents. Will rose to prominence after reaching the Strings Category Final of 2018 BBC Young Musician of the Year Competition.
Will has had several significant new works specially written for him, with premieres in Milan and London. He recently performed Bottessini's Gran Duo with the LGT Young Soloists alongside violinist Haeun Kim at the Elbphilharmonie Hamburg. He has collaborated with artists such as Alexander Sitkovetsky, Lawrence Power and Maxim Rysanov.
Competition successes include winning the Yorke Double Bass Prize in this year's Royal Overseas League Strings Competition Final, and reaching the upcoming semifinal in the International Society of Bassists Competition.
Soon after he started playing aged 7, Will was awarded a full scholarship to the Yehudi Menuhin School. An ABRSM Scholar at the Royal College of Music in London, he is also supported by the Drake Calleja Trust.
Contact