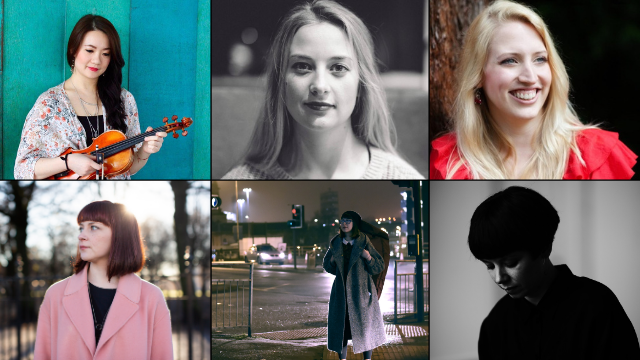 Senary
Senary is a versatile six-piece ensemble of composer/musicians working together to create and explore new music. The group began to emerge through two Chamber Music Scotland Creative Exchange residencies, where they developed new work and spent time considering what it means to be a chamber musician today.
Their first collaborative project took place during the COVID-19 lockdown. Recording remotely, they shared a series of improvisations in relay style - each musician contributing a layer - resulting in six short pieces and bringing creative focus in an unusual time. You can listen to their first project below.
With four commissions in the pipeline, Senary are excited to present this special line-up of violin, cello, harp, flute, tuba and electronics. Their aim is to bring a new sound to audiences, with the informal, intimate approach associated with traditional chamber music: "the music of friends."
Ensemble members: Katrina Lee, violin; Alice Allen, cello; Ailie Robertson, harp; Sarah Hayes, flute; Danielle Price, tuba; Kim Moore, electronics
Chamber Music Scotland gratefully acknowledges support from